Top 10 reasons to go on safari in Tanzania
Safaris in Tanzania is spectacular. Just the name conjures up a range of iconic images, including golden savannah, safaris amongst African wildlife, breath-taking landscapes, geological features and lakes, the highest mountain in Africa and magical spice islands with white sand and warm turquoise waters.
Tanzania's appeal is varied and really does offer something for everyone. It is emerging as one of the most popular destinations on the Mother continent and here, we explore some of the reasons why.
#1 The People of Tanzania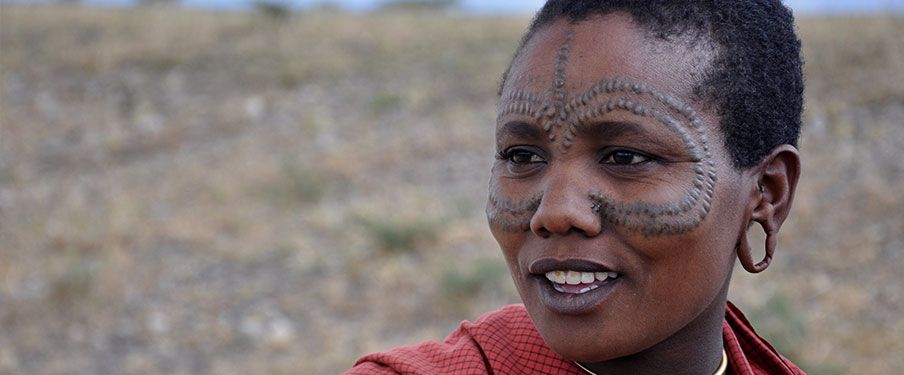 A highlight of travelling in Tanzania is getting to know the people and learning about the country's many different cultures. The people are a vibrant thread that will weave its way through your entire time in Tanzania. Thanks to a relatively widespread knowledge of English, local customs and culture in Tanzania are fairly accessible. Tanzanians are well known for being friendly and you will always be greeted by warm smiles and wonderful hospitality. The country is home to about 120 tribal groups. Most tribes are very small and almost 100 tribes combined account for only one third of the country's total population. As a result, no one tribe dominates politically or culturally. The country's official language is Swahili, which is a wonderful, musical language. We strongly recommend learning a few key phrases before and during your trip.
One of the most widely known tribes of Tanzania is the Maasai and their estimated population is 900,000. The majority of the Maasai people live in Southern Kenya and Northern Tanzania where many of the popular national parks and game reserves are located. They are one of the few tribes that have maintained many of their traditional ways of living, although it is common to see people walking along in traditional dress whilst talking on a mobile phone!
Another fascinating but less well-known tribe is the Hadzabe. These people live in and around Lake Eyasi, just south of the Ngorongoro Highlands. This region is also home to the Datoga and Mbulu tribes. A cultural visit with the Hadzabe and the Datoga is possible and they will show you how and where they live. One of the oldest tribes in Africa, the Hadzabe have consistently lived a hunter gatherer lifestyle without ever having to resort to farming. The Datoga are skilled farmers and crafts people.
#2 The Wildlife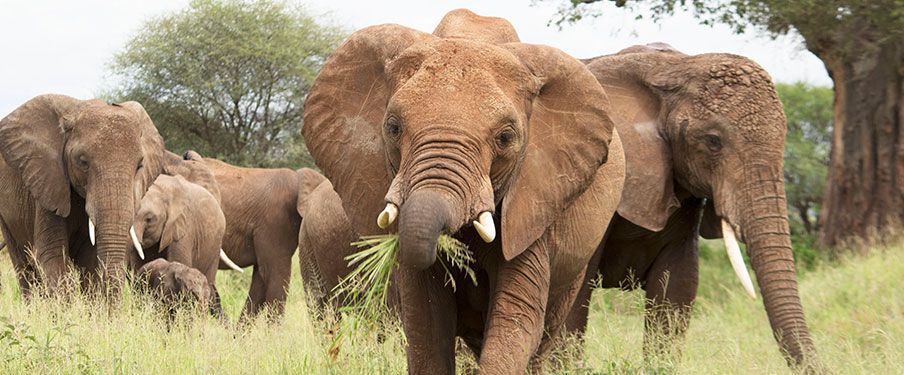 It is impossible to describe the depth and breadth of feeling while driving through the African wilderness. It is surreal, it is magnificent, it is incredibly moving.
Across the many National Parks and Conservation Areas in Tanzania, you will encounter large populations of animals. The wildlife is notable both for sheer numbers and also variety, with over 430 species and sub-species among the country's more than four million wild animals. These include zebra, elephant, wildebeest, buffalo, hippo, giraffe and antelope. Tanzania is also well known for its predators, with Serengeti National Park being one of the best places for seeing lion, cheetah and leopard. There are also populations of hyenas and wild dogs and in the Western regions, you will find chimpanzees. In addition, Tanzania has over 60,000 insect species, about 25 types of reptiles and amphibians, 100 species of snakes and numerous fish species.
For most visitors, their priority is to experience the larger mammals. During their time here, many people are also awakened to the wonder of birdlife. Wherever you are, you will be accompanied by birds of different species, size and colour. You will be accompanied by a rich soundscape of birdsong and calls and waking in the wilderness, listening to the dawn chorus is one of life's truly magical experiences. Thanks to a hospitable climate and wide range of habitats, Tanzania is home to around one thousand different species of birds, some of which can be found only in Tanzania.
Some of our popular safaris.
#3 The Serengeti & The Great Migration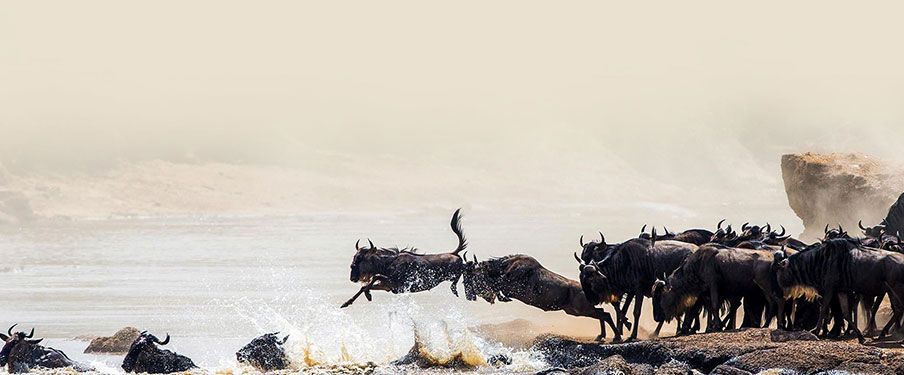 The Serengeti is very difficult to describe using words, in the same way that taking photographs cannot really do it justice. It is vast. It is beautiful. It makes you feel very insignificant. It is famous for its large open grasslands which allow for excellent sightings of wildlife. The Serengeti is Tanzania's oldest National Park and it is also one of the oldest ecosystems on earth. Its climate and vegetation have remained largely untouched for millions of years. Whilst the Serengeti boasts abundant wildlife, it is perhaps best known for the annual Great Migration. Huge numbers of wildebeest; accompanied by large numbers of zebra and antelope move in an annual pattern, constantly seeking fresh grazing. The precise timing of the Migration is entirely dependent upon the rainfall patterns each year and the time of year that you visit will determine in which part of the Park you will find the animals. A million wildebeest crossing the plains of the Serengeti in search of fresh grass while continually on the lookout for predators and braving perilous river crossings. The spectacle of the Great Migration is unrivalled anywhere in the world.
Some of our popular Serengeti / Migration safaris
#4 Mount Kilimanjaro
Located in North Eastern Tanzania, Kilimanjaro is Africa's highest peak and the world's tallest free-standing mountain. On a clear day, she can be sighted from great distances. Kilimanjaro rises 5,895 metres above sea level and features a snow-capped peak all year round. The mountain represents a powerful life force for the local Chagga people and all those who have made their lives around the mountain, providing rich volcanic soils for agriculture and an endless sources of pure spring waters.
75,000 people climb Kilimanjaro every year and whilst it is not for the faint-hearted, it is one of the more accessible mountains on our planet. It is sometimes referred to as 'Every man's Everest'. There are a number of different routes you may consider, most taking between 5 and 7 days. It is considered beginner-friendly, with intermediate as well as difficult routes. One of the big appeals of Kilimanjaro is that climbers do not need any special training, technical skills or even previous trekking experience to reach the summit. Just a good level of fitness. The climb will take you through a variety of different landscapes and geological features, although this varies depending on the route you choose.
Link to information about Mountain Climbing?
#5 Ngorongoro Conservation Area & Ngorongoro Crater
Ngorongoro Conservation Area is often described as Africa's Garden of Eden. It harbours a wide range of globally threatened species and incredibly dense wildlife. It is also home to an important centre for archaeological research.
One of the most well-known features of Ngorongoro Conservation Area is the Crater. When you first see Ngorongoro Crater, it looks like a forgotten world. Concealed by the steep volcanic walls is a pristine wilderness including sweeping savannah, pockets of acacia woodland and glistening lakes and swamps. The Crater (technically a Caldera) was created when a large volcano exploded and collapsed in on itself two to three million years ago. It is famous for both its geological delights and for being a natural reserve which is home to some of the densest large mammal populations in the whole of the African continent. The drive down into the Crater is an adventure in itself and when you reach the Crater floor, you quickly find yourself amongst large numbers of wildebeest, zebra, gazelle, and more than 500 bird species. The Crater provides you with the best chance of seeing the endangered black rhino, which can sometimes be spotted in the open grasslands.
Inside Ngorongoro Conservation Area is the area known as Ndutu. This area is home to the Wildebeest Migration, normally from December through to March. The lush plains are the backdrop for the calving season during February when about half a million Wildebeest calves are born over a 2-3 week period and join the ranks of the huge herds. The Lake Ndutu region is dotted with alkaline lakes which are home to flocks of pink flamingos.
Between Ngorongoro Crater and the Serengeti, you will find Olduvai (Oldupai) Gorge. It is one of the most important paleoanthropological sites in the world and gives us a good understanding of early human evolution. It holds the remains of the earliest humans ever found, which were discovered in 1959 by archaeologists Louis and Mary Leakey in 1959. Archaeologists continue to work on these excavation sites and they have been preserved for public viewing. A visit to the Olduvai Gorge focuses on the smart new museum, opened in 2017, which overlooks the actual gorge. Whilst here you will also have a chance to listen to a short presentation by a resident guide.
When the Ngorongoro Conservation Area was founded in 1959, it was established that the land would be used as a nature reserve and would preserve the rights of the indigenous people (the Maasai) and the development of tourism. This is the only place in Tanzania where people are allowed to live in a protected area. Many of the Maasai people were moved here from the Serengeti and were allowed to build their own villages, lead their cattle to pasture and move freely. The only restrictions are that people cannot build villages inside the Crater.
#6 Western & Southern Safari Circuits
Western Tanzania's National Parks, Mahale & Gombe, are most famous for their populations of Chimpanzees. A member of the hominid family along with gorillas, orangutans and humans, the chimps show many behaviours previously attributed only to humans, including laughter and tool-making. Jane Goodall spent 50 years studying social behaviour in the Kasekala community of Chimpanzees, which you can observe for yourself on a guided trek in Gombe National Park.
Safaris in Tanzania's Southern Circuit focus on two main destinations: Ruaha National Park and Selous Game Reserve. Although both are quite remote, they are easily accessed by bush flights from Dar es Salaam. Competing against Serengeti's Wildebeest migration and Ngorongoro's throngs of animals, the Southern Circuit may lack some of the kudos of its Northern counterpart, but it lacks none of the beauty. And the wildlife, although not as easy to see, is even more diverse. What both Ruaha and Selous offer in abundance is a true sense of wilderness, of raw untamed Africa. The Southern Circuit offers a very different, but equally fascinating Tanzanian Safari.
#7 Zanzibar Beaches
Zanzibar is located off the coast of mainland Tanzania and is commonly known as the 'Spice Island'. It is home to some of the best beach destinations in the world. Spanning approximately 90km long and 40km wide, Zanzibar is a semi-autonomous archipelago consisting of two major islands – Unguja and Pemba.
You can stroll for miles, go for morning yoga or SCUBA diving in the Indian Ocean. It is rare to spot too many people on the pristine, serene beaches. If you're seeking a perfect getaway from the hustle and bustle of city life, or perhaps looking to round off an amazing safari adventure then the beaches in Zanzibar are a perfect choice. Aside from the white sandy beaches and turquoise ocean, the island is home to a tropical forest with Red Colobus monkeys, Genets and Zanzibar leopards.
#8 Stone Town
Stone Town is the old city and cultural heart of Zanzibar and little has changed in the last 200 years. It is a place of winding alleys, bustling bazaars, mosques and grand Arab houses. Stone Town has brought together many different elements of the cultures of Africa, the Arab region, India, and Europe over more than a thousand years. You can spend endless hours just wandering through the fascinating labyrinth of narrow streets and alleyways, absorbing the years of history.
#9 Hiking (Mt Meru, Oldoinyo Lengai, Empakaai Crater)
Safari days normally involve long hours inside the safari vehicle and in most of Tanzania's National Parks, it is not possible to do walking safaris. However, there are plenty of breath-taking hikes that can be undertaken. Your guides will also provide you with a range of information about natural history and culture along the way.
Mount Meru: Mt Meru is situated in Arusha National Park, which lies just a few kilometres north-east of Arusha. It is the second highest peak in Tanzania, after Mt. Kilimanjaro, which is just 60km away. Although overshadowed by Kilimanjaro in the eyes of trekkers, it is a spectacular volcanic cone with one of East Africa's most scenic and rewarding climbs, involving a dramatic walk along the knife edge of the crater rim. Achievable in just three or four days, a Mount Meru summit can be added to the start or finish of your safari adventure.
Empakaai Crater: For those who don't necessarily want to summit a mountain, a day's hike to Empakaai in Ngorongoro Conservation Area can be a great way to trade the safari vehicle for some fresh air. The stunning but relatively unknown Empakaai Crater lies roughly 40km north-east of its famous neighbour, the Ngorongoro Crater. From the moment you arrive at Empakaai, you will be treated to splendid views of the Empakaai Crater, as well as a possible glimpse of Oldoinyo Lengai, Tanzania's most active volcano. Accompanied by a Park Ranger, you will descend down into the Crater through thick, mountainous forest. On the Crater floor there is superb birding around the lake and the chance to see flamingo as well as some larger animals such as buffalo, hyena and elephant.
Ol Doinyo Lengai: The more adventurous traveller might like to try and climb Ol Doinyo Lengai. Close to Lake Natron, an area which is off the beaten track. The climb usually starts at midnight and you climb for around six hours, through the night, to reach the spectacular views at the top by sunrise. Anyone considering this climb should understand that it is a very tough climb and that Ol Doinyo Lengai is an active volcano, so there are associated risks involved.
Arusha National Park: You don't need to be a hardened adventurer to hike in Tanzania. Arusha National Park's lack of dangerous wildlife makes it a great place to stretch your legs and go hiking. You can also combine your hike with a game drive or a canoe safari, on one of the lakes.
# 10 Hot Air Balloon Safari
Hot Air Balloons invoke feelings of thrill, exhilaration and trepidation. It is expensive, but offers unrivalled views of the landscape and wildlife. You will nearly always have an early start and will rise into the sky at the same time as the morning sun. Flight times are normally 50-70 minutes. The direction of your flight is governed by the winds and your journey will be tracked by the ground crew in their vehicles. You will experience our incredible planet in a way that will stay with you for the rest of your life. Currently, it is possible to do a Balloon Safari inside Tarangire, Serengeti and Ndutu.
A final word….
If the above information has whet your appetite, you may wish you read the following article on the Cost of a Tanzanian Safari.
Please do have a look at the range of safaris that we offer and remember, we are very happy to design a bespoke itinerary based on your preferences, availability and budget. Lion King is a team of friendly and dedicated professionals and we are committed to delivering a once in a lifetime experience. We are incredibly proud of our country and everything it has to offer and love nothing better than sharing it with people from all over the world. Please do get in touch for a quote, or just a friendly chat. We hope to hear from you soon!